Manwhore. Adrenaline junkie. Lead singer of ContraBand. What you see is what you get. I make no apologies for my actions, and by now no one expects any from me. I live my life the way I want and as long as it pushes the demons back, then I'm solid. I've never needed a chick for more than a good lay. Why would I need just one when I can have a different one every night?
Until she walks into my world.
Mouthy. Perfectionist. Princeton student. Chemistry major. Yes, that pretty much describes me. Oh, and virgin. But I'm only nineteen, and have more important things to concern myself with. What really matters is finishing my degree and getting a good job. I've worked hard for what I want, and do what's expected of me. I don't need anyone to get in my way.
Until he opens up my world.
But if I give you my world, whatever you do…don't TAKE ME for granted.
My Thoughts
It has been a long time since I have done a review... I feel like a book blog virgin all over again because of the break I took. But now I am back in action and I am going to start off with a bang, with this little gem by K.A. Linde...
I was having a hard time deciding on what to rate this book because I was in love with it until towards the end when Aribel was acting like a stubborn fool and I literally wanted to jump through the book and strangle the crap out of her and her stupid assumptions.
But then I calmly read on and eventually got what I was looking for.
I really loved the whole dynamic between Aribel and Grant's character. From the very beginning of their relationship, onward, it was like a explosion gaining momentum but not quite exploding... It just kept building and building until there was nothing else to do but to explode and when it did.... ummm WHOA!!!
I really loved Grant, even though he was a humungous, womanizing, manwhore without a single fuck given to who, what, where, how, or when he was going to get his next lay. He used sex, drugs, and alcohol to escape the demons from his past and no matter how hard he ran, he couldn't really escape them....until Aribel came along. Oh and he was just lickable.... Even if I wanted to wash out his dirty mouth, I still wanted to stick my tongue down it at the same time..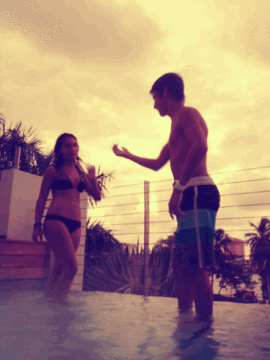 Aribel was a stubborn, smartass, intelligent, woman. She was a strong female lead and did not take shit from anyone. She gave just as hard as she got... I loved her character but I wish I would have had more background on why she was the way she was. There were hints of strict parents but when they were in the picture, they didn't seem strict. I think I may have wanted Grant to meet them to really see their true character. But there are plenty more opportunities for that in the coming novels, I am sure.
I loved the secondary characters, even though some of them were assholes too. And I loved watching the love between the two characters grow, even if you did want to strangle them a few times!!
Overall, I give this book a 4/5 "Kristin is a huge whore" stars ;) and I can't wait to see what is next for this dynamic duo...
K.A. Linde graduated with her Masters in political science from the University of Georgia in 2012. She also has a bachelors in political science and philosophy. She wrote her the Avoiding Series while struggling through advanced statistical modeling and writing her thesis. She enjoys dancing and writing novels that keep you guessing until the very end.
She currently resides in Georgia with her boyfriend and two puppies, Lucy and Riker.
Facebook https://www.facebook.com/authorkalinde
Twitter https://twitter.com/authorkalinde